Neuro Training™ for Sports Medicine
This section includes the impact of Neuro Training and our Brain-Based Neurological Treatments on athletes precision, coordination, and endurance:  Our Cutting Edge Contemporary Applications for the Engineering of Peak Athletic Performance.
The Neuro Training™ Program is designed for athletic and sports trainers.   This contemporary and unique program is based on clinical functional neurological applications that target specific brain regions and is intended to compliment existing training protocols.  Specific, contemporary insights and practical state of the art tools are taught in the Neuro Training™ curriculum, and can be utilized to instantaneously reset the individual athletes central processing capabilities, culminating in increased timing, balance, endurance and precision.
The Neuro Trainer™ designation certificate is granted upon the successful completion of the the Neuro Training™ Program.
For more information on the Neuro Training™ Program, call or email the Jaudy Treatment Center.
Click here for contact information.
Neuro Training by Dr. Jaudy, DC, FACFN, FABVR, CCST
The following shows Dr. Jaudy in action with an individual athlete and providing Neuro Training™ for sports professionals.

Dr. Jaudy examines a female athlete in order to prescribe the proper brain-based activities for her optimum engineering and peak performance.
Ginny suffered with a chronic frozen shoulder and knee pain for many years and was unable to golf.  She was treated by Dr. Jaudy over seven sessions…you can see the results…Click on the video to watch Ginny's swing.

The golf team sponsored by the Jaudy Treatment Center took first place in the Sacred Heart Tournament with over thirty participating teams. All members of the team are patients of Dr. Jaudy.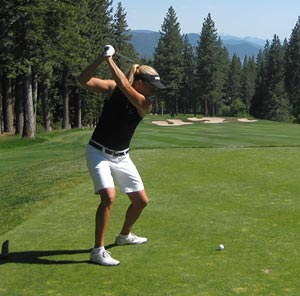 Sharon Fletcher is a PGA/LPGA class A teaching professional and golf pro, and has taught at the PGA National Academy. Sharon helps the student to develop and improve on his/her swing, short game techniques, uneven lies and course management with video analysis.
Recently, she has utilized cutting edge Neuro Training tools from Dr. Jaudy for her students. Sharon was the team coach and led for the Jaudy sponsered team which came in first from a field of over 30 teams.
Sharon's website is www.no-ultimates.com